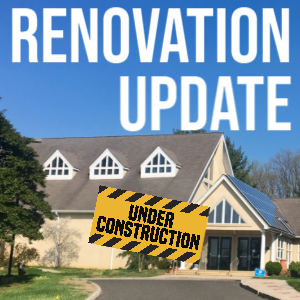 Information from the Renovators may have seemed quiet the last weeks, but the work has continued. There is so much good news to share this week.

Last week, Grace Construction advised Ed Fox that the Cherry Hill Township Construction Code Official released our Phase I permits. Real work can begin. Also, the truss system has been ordered which means heavy construction will likely begin in the second or third week in October. By now, the 17 west wall Anderson windows are also ordered.

While waiting for the good news, the Task Force continued to work on Phase II specs. The Board is in the process of approving the proposal for the design phase of the lighting and audio/vision systems. The proposal is a phase I item. The systems are Phase II items.

Sylvia Barclay is consulting with the Arts and Aesthetics committee about ordering ten chairs with arms for congregants who need seating assistance. They will be the same style and color of the fabric chairs which we currently own.

There was an in-person meeting with a flooring distributor. The Renovators, with the help of A&A members, are in the process of making choices for the Commons, the Sanctuary and the Chancel.

The Renovators continue to meet two or three times a month and sub-groups are constantly working to have everything ready for the Township to quickly approve the Phase II plans and issue permits to have the work of restoration continue seamlessly.

Also, soon, access restrictions will be announced. Everyone will have to recognize the importance of this effort, which will allow us to use the unaffected areas of the Church during construction. Walkways, parking areas, and indoor spaces will be subject to the restrictions. Watch for signs which will guide us all through the next months.

Thank you to everyone who has pledged the funds to make our dream come true.

Till next time,
Connie Roggio, for the Renovators