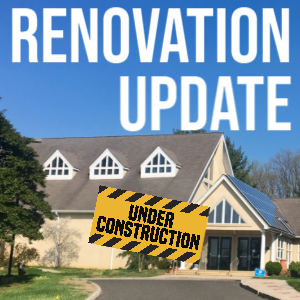 While the Renovators were conservative – who knew – and expected the work of renovation to begin in September, removal of landscaping and memorials in front of the West Wall began on August 17. On Monday, Rev. Margret recited moving words honoring the five members, including Rev. Rudy Nemser, whose memorial plaques were removed for storage. Some weighed over 150 pounds and thanks are due Lee Phillips, Bill Reigle, Pat Naylor, Chris Sandy, Patty Lynn, Ron Enfield, Sylvia Gruner and Les Engels.
With this job completed, Phase I has officially begun. On Thursday, Haddon Tree Company removed the holly tree from the circle and the beautiful weeping Douglas Fir, which greeted us into the front door of the Church. A new exit door will be built in the place of the fir. New plantings will replace these items when construction is completed.
On Saturday, the Arboretum crew transplanted any items that could be saved and some will be replanted. The weekend finished with Keith Spirgel and two of his sons moving all of the furniture from the Commons. With the exception of tree removal by Haddon Tree Service, all labor was provided by members of the congregation.
We will publish a few paragraphs and a few photos every week. By doing this, we will also be able to build a history of the renovation for the annals of our Congregation. This is an exciting time and our goal is to keep every member and friend of UUCCH excited about the Sanctuary we are building for generations to come. May the sun shine on our hill. May the rain fall gently on all who work for our future. Till next week………
Connie Roggio, for the Renovators