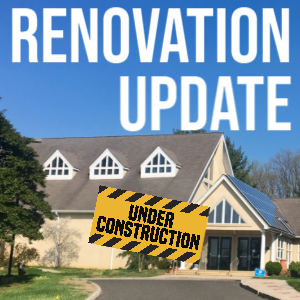 The time has come!! On Friday, October 23, 2020, a final meeting was held in the drizzle outside of the church doors. Members of the Renovation Task Force (Pam Anderson, Greg Newcomer, Les Engels, Connie Roggio) Rev. Margret A. O'Neall, Ed Fox, representatives from RYEBREAD (architects), Grace Construction (general contractor), PMH, (Structural Engineer) the roofing contractor and others gathered to make final decisions before the start of construction.

Where will the heavy equipment be placed? How will materials be stored? Where will the operations center be? Which roadways and doors will be blocked off? Where are the lightning rods? Who has the key? Where will the dumpsters be placed? How will election day traffic be routed? What trees have to be preserved? How much of the old material can be recycled? Where do gardeners have to wear safety jackets and hard hats? And many, many more questions were asked and answered.

By Monday morning, our grounds were ready for the delivery of the new trusses for the Western roof. On Tuesday morning, Margret reported a big bright blue lift in place. Men are on the roof.

UUCCH is officially a construction site. Now if you visit the labyrinth or the Arboretum, if you have business in the offices of UU house, or if you are just nostalgic for 401 N. Kings Highway, the appearance will change on a daily or weekly basis. Drive-by looks are welcomed.

This Week in Renovation will be reporting more frequently. We will continue to update the Google Photo Album (click on the link) to show you the work as it progresses, and document this historic time in our church history. As usual, the Board of Trustees and Renovators wish to thank everyone for your trust and support during the two plus years from discovery through planning and on to financing our future.

Connie Roggio, for the Board and Renovators.